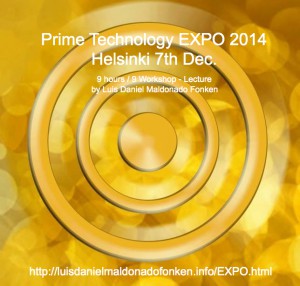 JOIN the WEBINAR :
CONTACT:
welcome@luisdanielmaldonadofonken.info skype @ luisdanielmaldonadofonken
SERVICE DESCRIPTION
By joining the webinar you will have access to these 9 hours video for a length of 9 weeks or more; as well to a forum dedicated to questions, answers and advice, given by Luis Daniel Maldonado Fonken on the webinar subjects.
TRIAL FREE 5 DAYS
The trial experience for 5 days only gives you access to only one video/theme.
WHEN?
You are welcome to join the webinar in any moment. Your membership for 9 weeks will be activated as soon as you join.
PRIME TECH EXPO Helsinki 2014 ONLINE
You are kindly welcome to join our Prime Tech EXPO Webinar Online
9 hours Video of the Live Event at the Prime Tech Expo Helsinki 2014  ( not edited, as it was, video recordings)
9 Mini workshops / lecture by Luis Daniel Maldonado Fonken on Prime Technology applied on the fields listed below.
The themes listed on our site have been developed and presented in detail, a general overview on Prime Technology applications, background, core knowledge and intention, the 7th December 2014 @ Prime Tech EXPO Helsinki, on 9 hrs video.
What will you enjoy along the Prime Tech EXPO Helsinki 2014 webinar ?
0. * Prime Yoga & Prime Meditation (including guided practice): The 900 Prime Yogas
1. * Prime Do – Prime Martial Arts – Background, history, function for peace, origins, practice
2. * The Art of Peace 9 – Non violence practices, the art of peace and the art of war, prime technology applied for peace.
3. * Prime Tech: Futurism & Transhumanism, Global culture change induced by IT, AI & Nano Technologies. Why the user/human must be taken out of the equation? Why and why not transhumanism, is transhumanism an experience of the future, past or present of humanity? How culture could change in the following 54 Years. Transhumanism and peace.
4. * Prime Tree:  The Golden Sphere of Love: Sacred love, sacred sexuality and conscious conception. Family, love and sexuality as path for ascension/completion/prime self union. Collective global self-awareness, self-responsibility. The spiritual path of organic life. Why Golden Sphere of Love is different from Tantrism ? Kaliyuga and tantrism (individualization of the spiritual path vs. the path of human collective / human species) The ancient gods and goddesses of love and their function for social development, social health and family.
5. * Prime Tree: Riding The Golden Dragon: Wealth and the earth element. Prime Tech applied for enhancing individual, family, community, culture, and global wealth. History of the flow of wealth, in relationship to empires, religion and family blood lines/family houses.
6. * Eating as a Prime Yoga Practice, raw-vegan; Luis Daniel Maldonado Fonken experience along shifting process into raw and vegan lifestyle. Addictions, body, emotional and psychological responses, social impact, culture, religion, life care sustainability, animal rights. How to eat based on the 9 elements and the heart practice.(guided practice). Nurturing through emotions, feelings, impressions, activities and relationships. Benefits of raw vegan lifestyle.
7. * Story Telling,
8. * Prime Arts Performance, meditative arts. Luis Performing a 18 min story-poetry telling improv and guitar chords percussion improv.
9. * Prime Tech Applied for Business: Use of the three set of elements and the heart, how Prime Tech perceive the future development of corporations and their relative function for culture development, life care and global sustainable development. Communication, collaboration, business.
10. * Prime Archeology – The Primes Culture. Luis travel adventures and expeditions 1987 -2014 on prime/spiritual archeology in Southamerica, Europe, Russia, Israel and Asia.
More INFORMATION?
Prime Tech EXPO Helsinki Dec 7th 2014 Complete Program
What is Prime Technology ?
More about Prime Technology
(Include Gift Certificates, Trial Memberships, Projects, Games)
Have you enjoyed the webinar?
Helps us promote the Prime Tech Expo!
Join us as affiliate, earn 50%
WELCOME ˜TO THE ODIN THETA ACADEMY ONLINE
At the Odin Theta Academy, webinars, forums, projects developed online, supports organic training provided at location.
Odin Theta Academy students enjoy from a personalized customer care, individual online learning sessions, coaching sessions, mentoring and counceling.
Director, CEO: Luis Daniel Maldonado Fonken